This post was sponsored by Build with Ferguson, who I have used for years and love. All thoughts and opinions are my own.
This is my dream bathroom. When most people say that, it just means ideal. But when I say it, I not only mean how ideal it was, but how I experienced it like a dream.
For years, I dreamt of this space, imagined every tile, faucet, and corner. I designed it, got the materials, worked with incredible brands, and hired a skilled contractor. Between COVID-19 delays and limitations and my mural schedule, we had to pause this project over and over again. Endless delays, twists and turns in the project, and challenges cropped up.
Part of that was because I decided to work with contractors rather than DIYing everything. My business got really busy last spring and summer which didn't leave me much time for the renovation. And along with every other shortage out there, there was also a labor shortage which meant we waited months in between some of our projects.
It occupied my imagination completely during that time.
Nothing made it more dreamlike though then my final experiences with it. We put in an offer on a new home two weeks before we finished my dream bathroom. And just like a really enjoyable dream, I only got to have a few beautiful, fleeting moments with this bathroom before I had to leave it behind. I took nine magical showers in that oasis of pink and orange.
Moving away from that stunning space with the most glorious shower has been one of my hardest decisions I've ever made. I think back to how beautiful it was, like I'm trying to jog my memory of a dream.
It's particularly ironic to be writing a before-and-after post about my dream bathroom now as I sit in my absolute "before" of a house. Even more ironic is the fact that the floorplan of our primary bathroom is identical to the floorplan of the "before" from our last primary bathroom.
Maybe by writing this post, I can conjure up some of that dream magic to propel me into remaking my new bathroom.
Updating the Footprint
The most drastic change that needed to be made to the space was updating the footprint. I spent hours rearranging this in my head.
While the "before" bathroom was functional, it didn't fit our lifestyle or uses. It sounds funny to say our "bathroom lifestyle" like we brainstormed a new way to use a toilet, but let me explain.
Our Bathroom Lifestyle
The space was 54 sq. ft. The shower was a 3×3 stall with a shower curtain. This is sufficient for bathing oneself with all sorts of soaps, shampoos, etc.
But this layout was counterintuitive to the opportunity. The shower stall blocked your view of the rest of the bathroom. It narrowed your vision so you couldn't appreciate the full space. Inside the shower, you couldn't view the gorgeous natural light from the window. Instead, the space was dark. I don't know about you, but I prefer to wake up into spaces that are inviting, bright, and welcoming. I'm already terrified enough of having to get the day started.
And possibly the most important for our family, specifically, it was not convenient for two adults showering together. This might sound like a small thing, but you have to understand my absolute resistance to taking showers. I don't mind once I'm in them, but they always feel like the biggest waste of time to me. They are extremely inconvenient. That's why I rely on Garrett's obsessive hygiene to kick off my to-do list. Garrett almost never misses a shower. So I often jump in with him. For two full-sized adults, a 3×3 shower isn't ideal. And Garrett acts like he is some sort of aquatic creature and can't share the water for more than a few seconds at a time.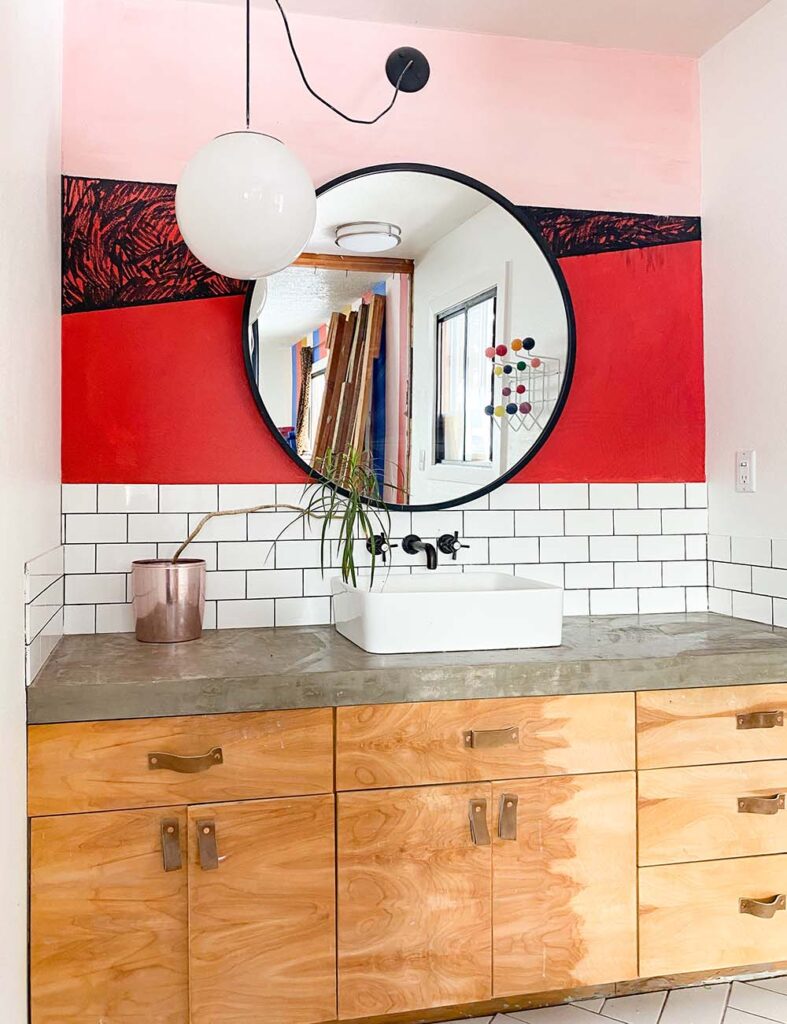 Rethinking the Vanity
The best way to open up the space to our needs was to swap the vanity and the shower positions. I didn't need a 6 ft. vanity. I'm vain, of course, but I very infrequently lie horizontally in front of the mirror to take up its entire width. Giggling at the thought of me even attempting this.
I am one of the only humans on earth who has like three toiletries too. So having a million drawers for make-ups and the like is a little excessive. After a conversation with my mom, she convinced me to install a larger vanity so I didn't rob some future occupant of their storage.
Back to the drawing board.
I needed to expand the footprint of the bathroom a bit. Next to the closet there was this dead space with about 9 sq. ft. where the bathroom door would swing. It seemed like a pointless waste of space. So I made the closet (which was already less than ideal) smaller, and gave us 33% more square footage.
This is why I say this was about redesigning the space for us. I know that many people would prefer more closet or vanity storage in their home, but the idea of having a double shower was magical. I wouldn't give my soul for it, but maybe like a sliver or two of it.
Designing the Space
Repurposing the Vanity
I love to reuse or reimagine as many elements as I can. It's less wasteful and I think it helps create continuity with the space. It's like a common thread through all its different lives.
The main thing I reused was the vanity. I had refaced a few years before and I loved the look of it. I had to trim it down about a foot to make it work, but I love the way the wood helps balance out all of the color in the room. I also reused the sink we had before.
Whenever I design a space with a lot of color, I pair it with a lot of white (walls), black details (hardware), and natural wood (vanity). This wood vanity is so solid it would have been a shame to pass it on.
Partnering with Build with Ferguson
For everything that I didn't reuse, I partnered up with Build with Ferguson. They're a great online resource for pretty much everything you need to finish out a space. They carry different brands, styles and finishes for pretty much every room in your house (including appliances!). I found all of my fixtures, hardware, and lighting there. Ferguson Showrooms are located throughout the country and have so many knowledgeable consultants. I've been going to my local store to talk through my projects with all of the pro's for years. They have been affirming and encouraging when I've discussed DIYing things and I just can't say enough good things about them. Added bonus: they offer exclusive pricing for professionals and always have an option that's in stock.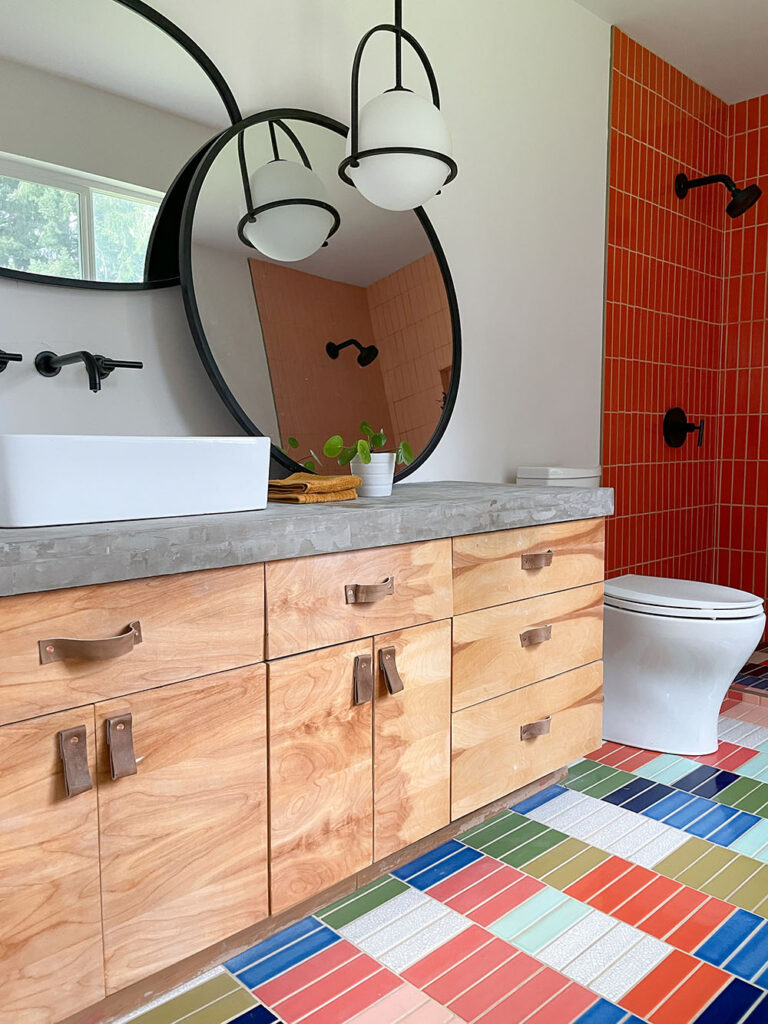 The Perfect Faucet and Sink
When I originally planned out this space, I planned for a new sink and a new wall-mount faucet. Do you have unreasonable fears? Like spiders that can't bite you or the way that certain Muppets move? Me too. Wall-mount faucets make me nervous. It's not completely unfounded. I had one in our "before" and after a little while one of the sides started to drip. I vowed never to install a wall-mounted faucet again. But after thinking about it for a while, I realized that the "before" faucet was an off-brand and I should have used a brand I trust.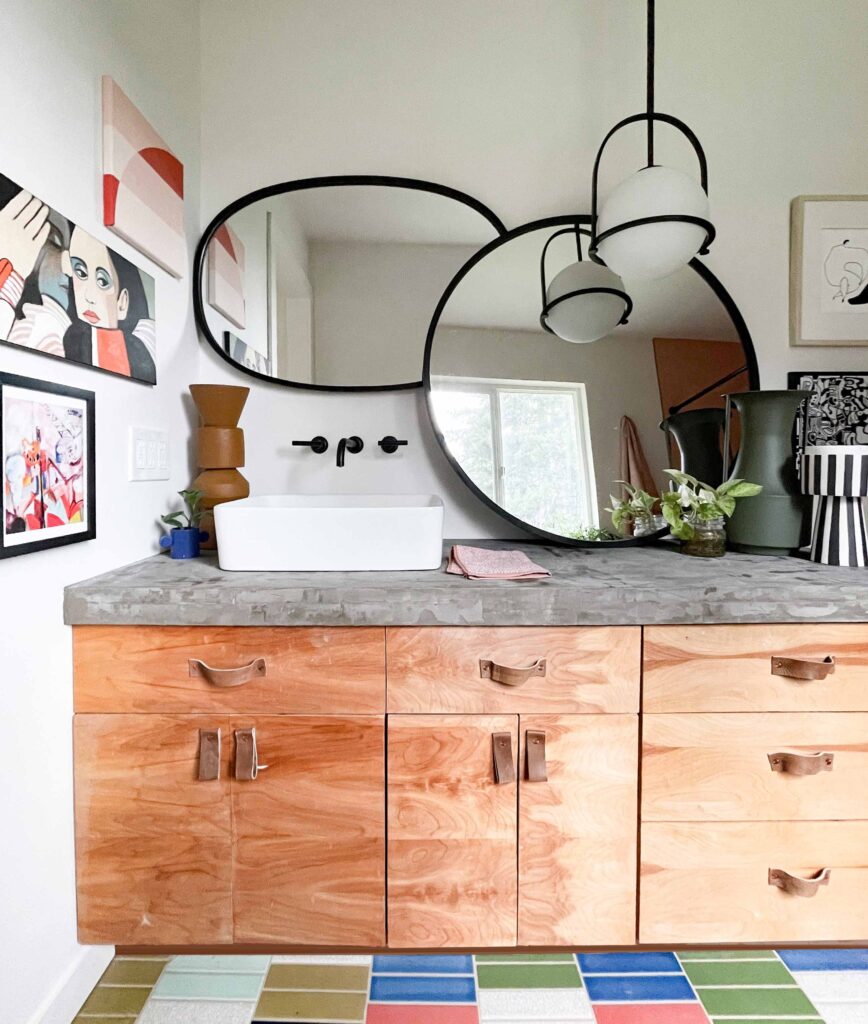 I really wanted to make the wall-mounted faucet work so I got one from Kohler, who I have SO much faith in. All of their products have worked like a dream for me and I wouldn't have trusted wall-mounted faucets again if it wasn't for them. So while it has a similar look to the previous faucet, we upgraded to a much higher quality faucet.
Because of some wall quirks we had to install the faucet to the left side of the vanity. To help balance that out and make it feel intentional, I installed a pendant light to the side of it and layered in the mirrors. I already had both mirrors. I know, I'm becoming a bit of a hoarder. Here's the link to the 37″ round mirror. And this is the oval mirror.
I really love this layered look and am eager to recreate it in another space!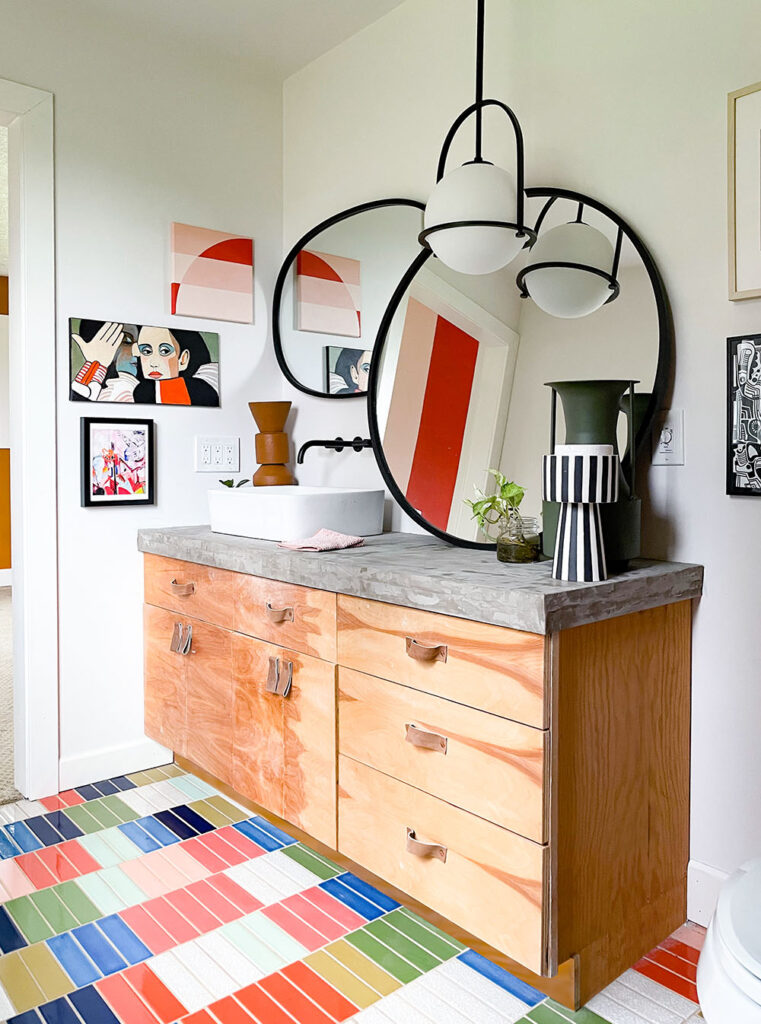 Beautiful Toilet
The toilet in our "before" was one that I bought second-hand from a building materials reuse store, The Rebuilding Center in Portland, and worked like a charm. Again, it's a Kohler brand. My momma raised me with very specific brand loyalty, so you KNOW I would only buy a second hand toilet if it fit those parameters.
But when I came across the toilet that I picked from Build With Ferguson, I was blown away. Working really hard here to not add some toilet puns. I'm a tasteful lady.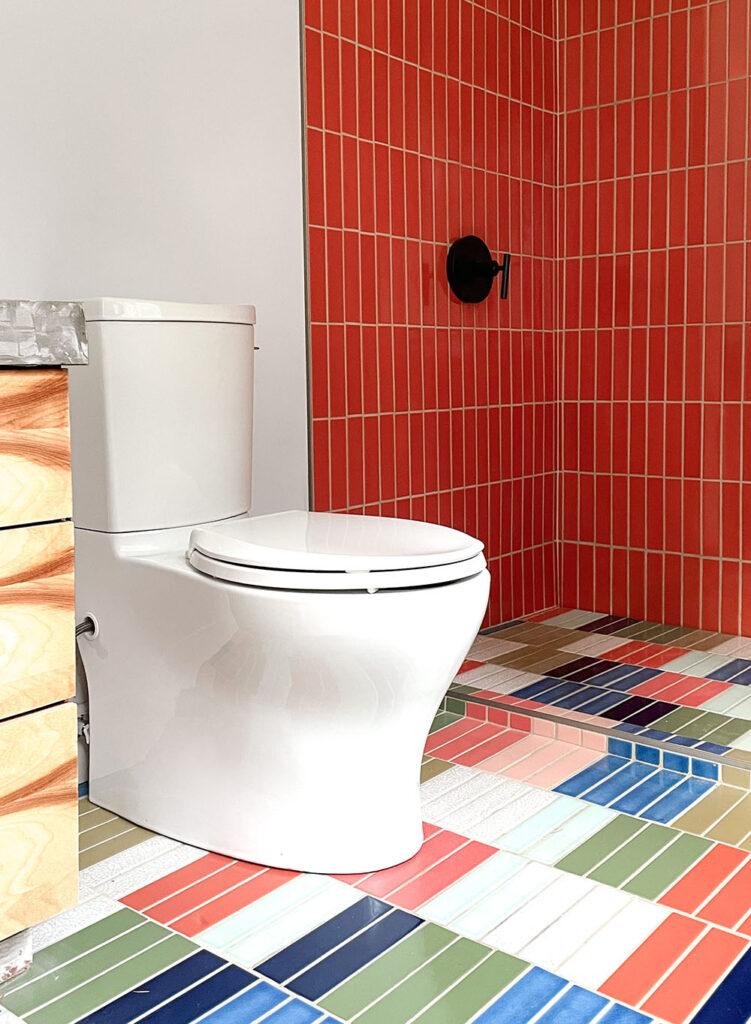 It is a beautiful toilet. I'm unafraid of saying those words together. It's very, very pretty. I love the smooth sides. Why aren't all toilets this way?! It is so much easier to clean! It also has multiple flush options.
Thanks to this toilet, my bathroom is now the shit. Sorry, had to do at least one pun.
The Greatest Shower Heads
If you were in my stories when we were packing up to go to our new house (before we listed this one), you know of my debate to take these shower heads with me.
After nine GLORIOUS showers, I felt like I definitely should take these with me. The shower heads are from the Kohler Purist line. This is the shower trim that I paired with them.
I love the modern lines of them, and the black really sets off the color in the room. After a lot of debate, I finally decided to leave them. I'm so glad I did!
Now that I've been in our new home for a few months I know that I want to use a lot of polished nickel or chrome for our fixtures. That color seems to fit our mid-century home a bit more and sets off the woodwork in our space. Odds are good that I'll still go with the Purist line though. I just love the clean lines of it!
I love how the graphic black shower heads pop against the colorful tile walls. They were meant to be together, even if it makes me a little sad they aren't with me anymore.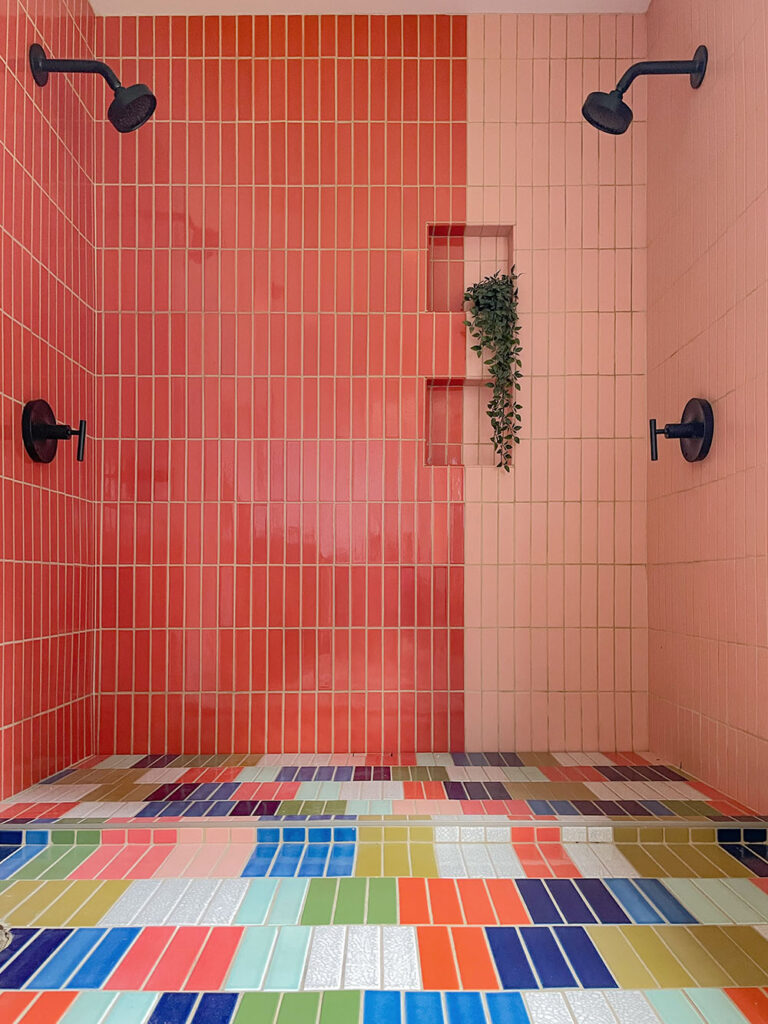 The Dream Goes On
I loved that bathroom so much. Everything about it just sang.
When we found our new house, one of the first things I noticed was that every sink was rusted and damaged. I kept the new sink (which isn't pictured here) for the new house and will be installing it soon. I'm excited because it's a Kohler product again! 
I also swapped out the toilets prior to leaving so I'm going to replace a broken toilet in our new house with this work of art.
I am so glad that so many parts of this gorgeous bathroom came with us. Even the lessons we learned.
One of the first things we did after we moved into our new house was buy $35 chrome shower heads to swap out in each shower so that we had a fresh start and could feel fancy. This small upgrade was absolutely worth it! It's not worth waiting in less than ideal showering conditions.
I am so in love with the design from the tile to the hardware. I will forever be grateful that I got to be part of its creation and that I got to spend time in it. SO grateful to my sponsors for making this a possibility.