I have a problem. I love getting new art in my home. I buy prints from great artists all the time—especially digital prints.
But here's my dirty, little secret, 90% of the time they stay on my computer as a print-ready PDF. Ugh. What a waste. Please don't tell anyone.
It's not that I can't print it and buy frames, but it just takes time. I'm flying around, painting a lot of murals, and when I get home, I just want to binge several seasons of a TV show while my dirty laundry sits inside my suitcase until my next trip. The last thing I want to do is spend a lot of in-store time to get art prepared. And if I'm being honest, I worry about print quality and about getting the right-sized frames for my art every step of the way.
Today's post is sponsored by Jo-Ann and their Keepsake framing service. Why? Because they solved it. Seriously, truly, fabulously. This problem I've been struggling with for years—it's okay now. I can sleep with dreamy art pieces floating on my walls next to my restful head.
I'll get into this, but spoilers. It costs less than $100 to get your pieces printed and custom framed. And there is only one thing better than a good deal: sharing it with the people you love.
The Best Kind of Gift
My younger sister lives in a cute little apartment. I'd love to paint a mural for her as I have for many of my other sisters, but she really wants to keep this thing called a "security deposit." Shocking, I know.
For a while now, she's asked me about getting some colorful art up on her walls. She loves one of my digital prints because of its vibrant, rolling colors—which is only eclipsed by her own vibrant, bold, colorful lifestyle. And even though I've had a lot of good intentions, I just never get my art printed and framed to take to her when we see her.
Seeing my sister has given me a pavlovian response of guilt. But no more! Once I heard about Jo-Ann's Keepsake service, I immediately wanted to do this for her. Then this next time, I'd show up at her apartment and in my welcoming arms, I'd also have the long-promised gift ready to go.
Ordering on Jo-Ann's Keepsake
This is so easy. Like, turn off the bedside lamp easy. Notice I didn't say the bedroom light because that would require getting out of bed to turn it off and I flatly refuse to ever do that.
First, you go to Keepsake Framing. The site is really easy to use because all you need is to upload your art.
My favorite thing is how it immediately shows you mock-ups of your art in every different size frame they offer. You can quickly scan through all the frames. It makes it really easy to compare and consider every option you have available. I've always dreamt of that regal situation where different people bring outfits to royalty and they say "yea" or "nay" to them. This is as close as I'll ever get.
Many of the frames also have multiple colors. I found a couple of frames I liked and toggled between the colors to see how they paired with the art. I often go with a simple black frame for my prints because the dark, black modern lines typically help the art feel more graphic and the colors pop.
Take some time to balance the size of your print, your budget, and frame style. I also loved that it didn't feel taxing or overbearing to go through all of the frame options. Usually, in-store, I feel like I have to jump back and forth between a couple of aisles. Or pack them around with me like some hoarder concerned that frames will shortly no longer exist. That would be a dark day indeed.
Then, simply click order and it's on its way!
Art Arrives Home
I was so excited to get the art in! The printing and the frame look incredible. They ship it in this cute yellow box with bubble wrap so the art is perfectly safe. These kinds of things matter to me after I got a book I ordered shipped alongside a bottle of shampoo for a disastrous result.
The frame also comes with its own hanging hardware, which made my job even easier. I don't think that's something my sister would have on hand in her apartment. I do know that she will have multiple varieties of Cheetos, Pop-Tarts, and Mountain Dew available so having this included is ideal. Ahhh, to be young again.
Receiving this art with the hanging hardware felt like that one person you hang out with that always seems to have the exact thing you need in their pocket or glovebox. I don't know why or how those magical people exist, I just appreciate that they do.
I thought the art looked so cute so I snapped a couple of pictures with it before I take it up to my sister. I'm so excited to pack it back up and take it to her with some other goodies soon. Possibly some fruits and vegetables too. I do want her to thrive.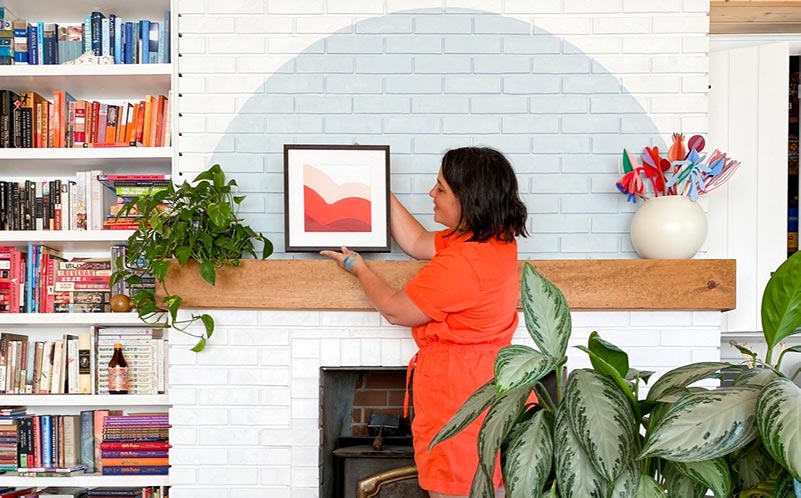 I can almost guarantee that there is a print, family photo, or art waiting on your computer just dying to be seen. Do yourself a favor and try Keepsake so you can focus on what matters most—television.
Sorry, I mistyped that. Family. Family is what's important. And gifting that family really pretty, colorful art.